Our last gathering with Grace Lutheran Communities is scheduled for 6:30pm on September 19, 2023, at the Village Hall. Everyone is more than welcome to attend.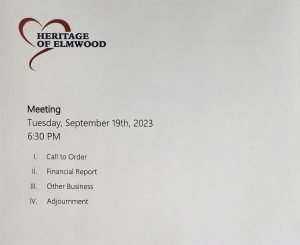 We are having issues with our water bill Point & Pay system. Please use the following steps to make a payment:
Go To https://client.pointandpay.net/web/VillageofElmwood
Select "Utility Billing" and Enter your account number.
Add the Account to your Cart and click Continue.
Change the "Amount" to the amount that's shown on your bill that is mailed/emailed to you.
Click Continue and follow the rest of the steps as normal.
Point & Pay isn't registering the actual amount that is due so you MUST change the amount to the actual amount that is due! Sorry for any inconvenience this may have caused. Please call the Village Office if you have any questions or need the current amount that is owed.
~ALL PAST DUE WATER BILLS WILL BE ADDED TO YOUR PROPERTY TAXES ON NOVEMBER 1ST~